Et voilà que l'été est déjà là et avec lui, sa nouvelle saison de parution austeniennes!!! Faites votre choix:
Auteur: Virginia Aitken
Genre: Sequel
Roman: Pride and Prejudice
Sortie le: 25 Juin 2011
Prix: 10,20 euros sur Amazon
"Ce roman retrace l'histoire de Marie Bennet trois ans après la conclusion de Pride and Prejudice. 1816, l '«année sans été», l'année des émeutes de Littleport, et l'année où l'Europe, ravagée par la guerre, reprenait son souffle après la défaite de Napoléon à la bataille de Waterloo. Mary Bennet, vingt et un an, troisième de cinq soeurs, est une jeune femme instruite et avant-gardiste pour son époque, mais elle s'est résignée à un avenir étouffant dans le petit village de Meryton, à s'occuper de ses parents vieillissants. Elle a peu d'espoir d'y trouver le grand amour, voire même un mari. Lors d'une visite à sa tante et son oncle dans le Cambridgeshire, le monde de Marie est bouleversé par sa rencontre avec Charles Treymayne et Fitzroy Sinclair. Ces deux hommes vont lui faire forte impression."
Auteur: Mary Lydon Simonsen
Genre: What If
Roman: Pride and Prejudice
Sortie le: 1er Juillet 2011
Prix: 10,51 euros sur Amazon
"Lorsqu'il rencontre Elizabeth, Mr. Darcy courtise déjà une autre jeune femme et il doit maintenant, en plus de ses états d'âmes d'origine, surmonter un véritable problème d'honneur..."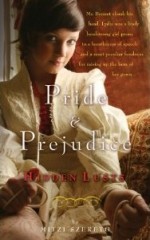 Titre: Pride and Prejudice: Hidden Lusts
Auteur: Mitzi Szereto
Genre: Parodie Erotique
Roman: Pride and Prejudice
Sortie le: 21 Juillet 2011
Prix: 11,17 euros sur Amazon
"

Mr.

Bingley et

sa soeur

ont tous les deux

des vues sur

Mr.

Darcy

;

Charlotte

épouse

une

étrange relation

de leur famille

et tombe sur un

monde secret

de relations

féminines

plus

à son goût

, où

les hommes

ne sont pas nécessairement

le seul sexe

dominant

...

»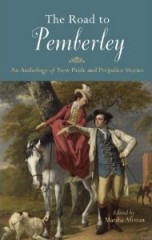 Titre: The Road to Pemberley
Auteur: Marsha Altman
Genre: Recueil de Nouvelles
Roman: Pride and Prejudice
Sortie le: 28 Juillet 2011
Prix: 10,20 euros sur Amazon
Recueil de nouvelles de différents auteurs autour de Pride and Prejudice et de ses personnages.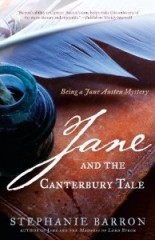 Titre: Jane Austen and the Canturbury Tale
Auteur: Stephanie Barron
Genre: Jane Austen Enquête
Sortie le: 30 Aout 2011
Prix: 10,52 euros sur Amazon
"Trois ans après la nouvelle de la mort scandaleuse de son mari, Adélaïde Fiske se retrouve de nouveau devant l'autel. Son fiancé est un soldat du Marquis de Wellington. Les perspectives semblent prometteuses pour l'une des femmes les plus célèbres du le Kent, jusqu'à ce que Jane Austen découvre un cadavre sur le chemin antique qui traverse la propriété de son frère Edward. En tant que premier magistrat de Canterbury, Edward est forcé d'enquêter, avec Jane comme assistante. Elle relève le défi et ne laisse aucune pierre non retournée, découvrant des mystères plus profonds que ce qu'elle aurait pu prévoir... "
Ainsi que deux sorties qui m'intriguent parce que je ne sais pas exactement de quoi il s'agit!! Si vous avez des pistes n'hésitez pas: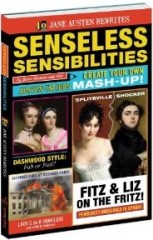 Titre: Senseless Sensibilities
Genre: ?????
Auteur: Potter Style
Sortie le: 28 Juin 2011
Je suis à peu près sûre qu'il ne s'agit pas d'un livre, tout en ne sachant pas ce que cela peut bien être. Un journal peut-être? Je donne ma langue au chat!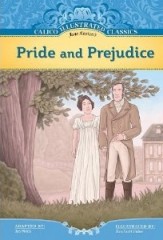 Titre: Pride and Prejudice Callico Illustrated
Auteur: Jane Austen & Jan Fields
Genre: ???
Roman: Pride and Prejudice
Sortie le: Aout 2011
Prix: 17,97 euros sur Amazon
Je n'arrive pas à savoir s'il s'agit ici d'une édition illustrée ou d'une nouvelle Bande-Dessinée. Mystère...