Auteur: Sue Birtwistle & Susie Conklin
Langue: Anglais (Moyen)
Roman: Pride and Prejudice
Genre: Making Of
Note: 4/5
De toutes les adaptations austeniennes existantes, Pride and Prejudice 1995, avec Colin Firth et Jenifer Ehle, est très certainement la plus connue et la plus aimée. Et ce n'est pas sans raison! Impossible alors de résister à l'envie de pénétrer dans les coulisses et c'est ce que nous propose ce livre. A l'intérieur, vous y retrouverez tout ce que vous avez toujours voulu savoir sur le casting, le choix des lieux, la création des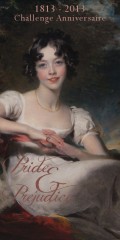 décors et bien d'autres choses encore.
Même si j'ai beaucoup apprécié ce livre, je dirais tout de même que certaines parties sont bien plus intéressantes que d'autres. J'avoue ne pas m'être particulièrement passionée pour la façon dont on installe l'éclairage ou pour le montage des pellicules de film, en revanche j'ai trouvé formidable l'énorme travail insoupçonné qu'il faut fournir pour arriver au résultat final et je n'en ai que plus de respect pour cette adaptation!
On en profite aussi pour apprendre de nombreuses petites anecdotes qui nous donnent l'impression d'avoir fait nous-mêmes parti de l'aventure!! Par exemple, Jenifer Ehle, qui est blonde, s'est teint les sourcils la veille de son audition parce qu'elle savait qu'ils cherchaient plutôt une brune pour Lizzy! Elle porte d'ailleurs une perruque pour le film. Ils ont aussi eu beaucoup de mal à trouver l'actrice parfaite pour Georgiana. En désespoir de cause, ils ont demandé aux acteurs qu'ils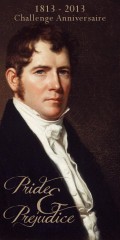 connaissaient s'ils n'avaient pas une fille disponible et c'est comme ça qu'Emilia Fox, la fille de Joanna David jouant Mrs Gardiner, a obtenu le rôle! Quant à Lucy Davis, qui joue Maria Lucas, elle a d'abord auditionné pour le rôle de Lydia. Malheureusement elle n'avait aucune expérience donc ils ne pouvaient pas lui donner ce rôle mais comme elle les a impressioné, il lui ont proposé le rôle de Maria... Bref, si vous voulez connaître encore un tas d'autres anecdotes dans ce genre, il vous faut ce livre!!
En le refermant, une seule envie, se replonger encore et encore dans cette adaptation et dans les yeux de Darcy! Et vous la voyez alors d'une façon nouvelle et ne l'en aimez que plus!!
Ce billet est donc ma première participation au Challenge Pride & Prejudice dont je donne officiellement le top départ et commence le compte à rebours jusqu'aux deux cent ans d'Orgueil et Préjugés: M-12!
Et si vous voulez ajouter "The Making of Pride and Prejudice" à votre PAL, c'est par ici.