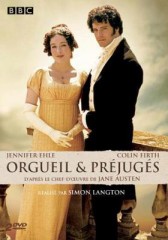 Si j'ai mis tant de temps à écrire ce billet qui semble pourtant une évidence sur un blog tel que le mien, c'est certainement parce que c'est le billet le plus dur que j'ai eu à écrire jusqu'à aujourd'hui! De cette adaptation, on hésite entre écrire des pages et des pages de commentaires ou se contenter plus simplement d'un "tout est parfait"! De plus, ceux et celles qui l'ont vue n'apprendront rien de plus et pour ceux qui ne l'ont pas encore visionnée, tout ce que je peux leur conseiller est d'y remédier le plus rapidement possible!
Je vais malgré tout essayer d'en dire quelque chose d'un peu plus constructif parce qu'un blog consacré à Jane Austen où on ne parlerait pas de cette adaptation n'aurait pas lieu d'être!
Après avoir lu Pride and Prejudice, the Making of j'admi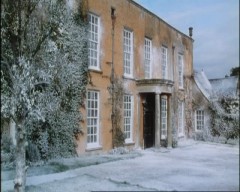 re encore plus ce film si c'est possible. On découvre, sans trop de surprise tout de même, que l'on n'arrive pas à une aussi bonne adaptation sans un travail considérable! Les lieux ont été choisi et décoré avec un extrême soin, les dialogues travaillés par l'incontournable Andrew Davies grand admirateur du travail de Jane Austen et qui pouvait-on rêver de mieux comme réalisateur que Simon Langton! Quant au choix des acteurs, on pourrait ériger une statue à celui ou celle qui a proposé le nom de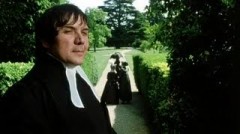 Colin Firth (sans parler de celui qui a imaginé la scène du lac!!) et je salue également le choix de David Bamber dans le rôle de Mr Collins, que ma maman et moi appelons affectueusement Cochonou!
Bref tout à était fait pour fournir une adaptation digne de ce nom et de Jane Austen et on peut dire que c'est réussi. Elle est particulièrement longue, ce qui permet de ne pas faire l'impasse sur certains passages du livre et de respecter chaque facette du travail de Jane Austen: l'étude sociale, les histoires d'amour, les liens familiaux,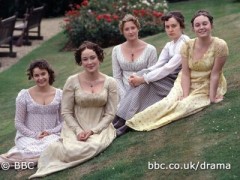 l'humour acéré et j'en passe... Et en ce qui me concerne, j'ai toujours un pincement au coeur lorsqu'elle se termine alors même que j'ai du la visionner une bonne vingtaine de fois!
Je ne doute pas qu'en la décortiquant on puisse lui trouver quelques petits défauts comme peut-être des personnages un peu trop caricaturés ou une Jane pas assez jolie mais tout cela me semble vraiment être des détails lorsque l'on considère la beauté de l'oeuvre dans son ensemble. Ce film est sans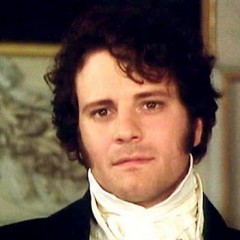 aucun doute grandement lié à mon amour pour Jane Austen et je sais que je ne suis pas la seule dans ce cas! Et non seulement il a joué un rôle marquant en ce sens mais également de façon plus générale en devenant mon maître étalon en scène d'amour. Avec un passage que j'adore dans le film Love Story, j'ai trouvé dans Pride & Prejudice l'une de deux plus belles scènes d'amour qu'il m'ait été donné de voir. Pour certains se sont les longues déclarations ou les grands baisers de cinéma, pour moi se sont les petits gestes: le regard de Darcy sur Elizabeth lorsqu'elle aide Georgiana au piano est juste envo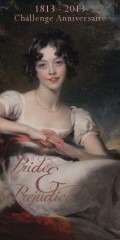 utant et tellement débordant d'amour! Qu'est-ce qu'on ne donnerait pas pour un tel regard!!
Voilà, je me suis finalement laissée emporter sur plusieurs paragraphes, tout en gardant l'impression de n'avoir encore rien dit et de façon confuse!! Je m'en excuse d'ailleurs mais il est vraiment difficile de parler correctement de cette adaptation. Je pourrais encore disserter pendant des heures - et je le ferai volontiers en commentaire avec vous - mais il me semble que cette adaptation ne nécessite véritablement pas que l'on en dise plus.