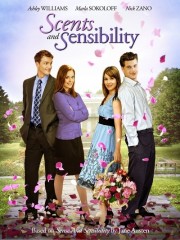 Si vous suivez un peu l'actualité du petit monde austenien, vous devez savoir que l'on y trouve vraiment de tout... et aussi pas mal de n'importe quoi!!! Je connaissais l'existence d'une adaptation moderne et récente de Raison et Sentiments appelée "Scents and Sensibility" mais jusqu'ici, impossible de trouver le moyen de la visionner. Quelle ne fut pas alors mon étonnement de constater que vendredi dernier, le téléfilm nunuche de l'après-midi de TF1 au nom encore plus nunuche de "Au Coeur de l'Amour" ne faisait en fait qu'un avec le fameux "Scents and Sensibility".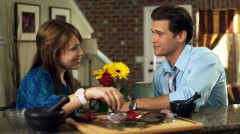 Ni une, ni deux, je me sacrifie donc pour la cause bien sûr... Et je visionne. Je suis assez bonne cliente de ce genre de comédie romantique pleine de guimauve. D'une manière générale, je passe un agréable moment avec des acteurs pas trop mauvais dont certains, comme Nick Zano, particulièrement choupinous.
En revanche, si l'on se penche sur le côté adaptation, une fois passée le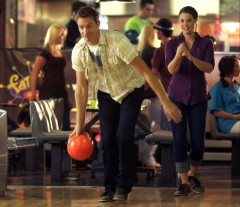 nom des personnages, on est proche du néant. Pour ne citer que quelques exemples, l'antagonisme entre les soeurs n'est pas vraiment évident, on trouve juste un peu plus de maturité chez l'aînée. L'histoire n'a pas grand chose à voir, et quand Marianne se rend compte que Willoughby la trompe, elle semble le regretter environ... une minute! Quant à Brandon, c'est juste le mec le plus craquant du film, Marianne ne risquait pas d'hésiter bien longtemps!
Pour faire court, et parce que ça ne mérite pas non plus des pages de commentaires, si vous êtes sur le point de passer un aprèm devant un téléfilm nunuche, ça peut aussi bien être celui-là! En revanche, si vous voulez voir une bonne adaptation de Raison et Sentiments, passez votre chemin!