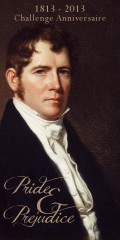 La date d'anniversaire de P&P étant passé, il est grand temps de faire le bilan du Challenge Pride and Prejudice en quelques chiffres:
30 participantes (et moi)

53 billets au total (sur vos blogs, sur le mien et dans les commentaires)

6 billets sur Orgueil et Préjugés, 17 billets sur les adaptations tv ou ciné et 28 sur les austeneries.

et beaucoup de plaisir...
La palme revient à Shelbylee qui a écrit 6 billets sur son blog et à Dodie qui a laissé 8 commentaires.
Comme nous sommes à présent dans l'année anniversaire, il serait quand même dommage de s'arrêter maintenant. Je vous propose donc de prolonger le concours d'un an! Toutes celles et ceux qui veulent se joindre à nous sont les bienvenues. Vous pouvez retrouver toutes les règles du challenge, la liste des oeuvres à lire ou voir et les liens des billets déjà publiés sur la page dédiée au "Pride and Prejudice Challenge".
Venons-en maintenant au concours. Un fois encore, Milady nous fait l'immense plaisir de publier une austenerie qui n'est autre que Le Journal du Colonel Brandon d'Amanda Grange. Quand je repense qu'une année en arrière nous pleurions sur le manque de publications françaises, nous ne pouvons qu'être reconnaissants! Et une fois encore, Milady a eu la gentillesse de m'accorder quatre exemplaires à vous faire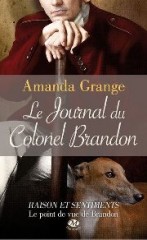 gagner. Les modalités sont simples: un petit commentaire à la suite de ce billet pour me dire ce que vous aimez, ou pas d'ailleurs, chez le Colonel Brandon vous permettra de participer au tirage au sort. Vous avez jusqu'au 13 février minuit.
Attention, voici la Minute où je Rouspète:
Je voudrais ajouter quelques lignes pour dire que, comme toute blogueuse qui commence à avoir un peu de vécu sur la blogosphère, le temps des désillusions est venu. Je tiens ce blog pour partager avec vous mon amour pour Jane Austen et dans un but d'échange. Je suis ravie de voir l'enthousiasme déclenché par mes concours mais je m'interroge sur le nombre de personnes qui y participent alors qu'elles n'ont jamais laissé un seul commentaire avant, ici ou sur la page Facebook. Même si je commente peu également et que je comprends donc qu'on n'ait pas toujours le temps, un petit commentaire sur plus de 200 billets publiés, je ne crois pas que ce soit trop demandé. Donc, pour ce concours-ci, n'hésitez pas à préciser notre degré de connaissance, celle que je connais le mieux auront des chances supplémentaires de gagner (Elodie, George, Dawn, Mylene, Dodie et tant d'autres que je remercie, à ce niveau-là de connaissance, plus la peine de préciser :p ). Et sachez que pour les prochains concours, je n'accepterai plus de participantes n'ayant jamais contribué à la vie du blog ou de la page. Voilà, traitez-moi de méchante, mais c'est dit!
Edit du 16.02: Merci à toutes de votre participation et pour celles qui n'ont pas gagné, ne vous découragez pas, plein de concours sont encore à venir. Les gagnantes, quant à elles, sont: Fanny, Eiluned, Sue et Eliza. Pensez à m'envoyer vos adresses les filles.